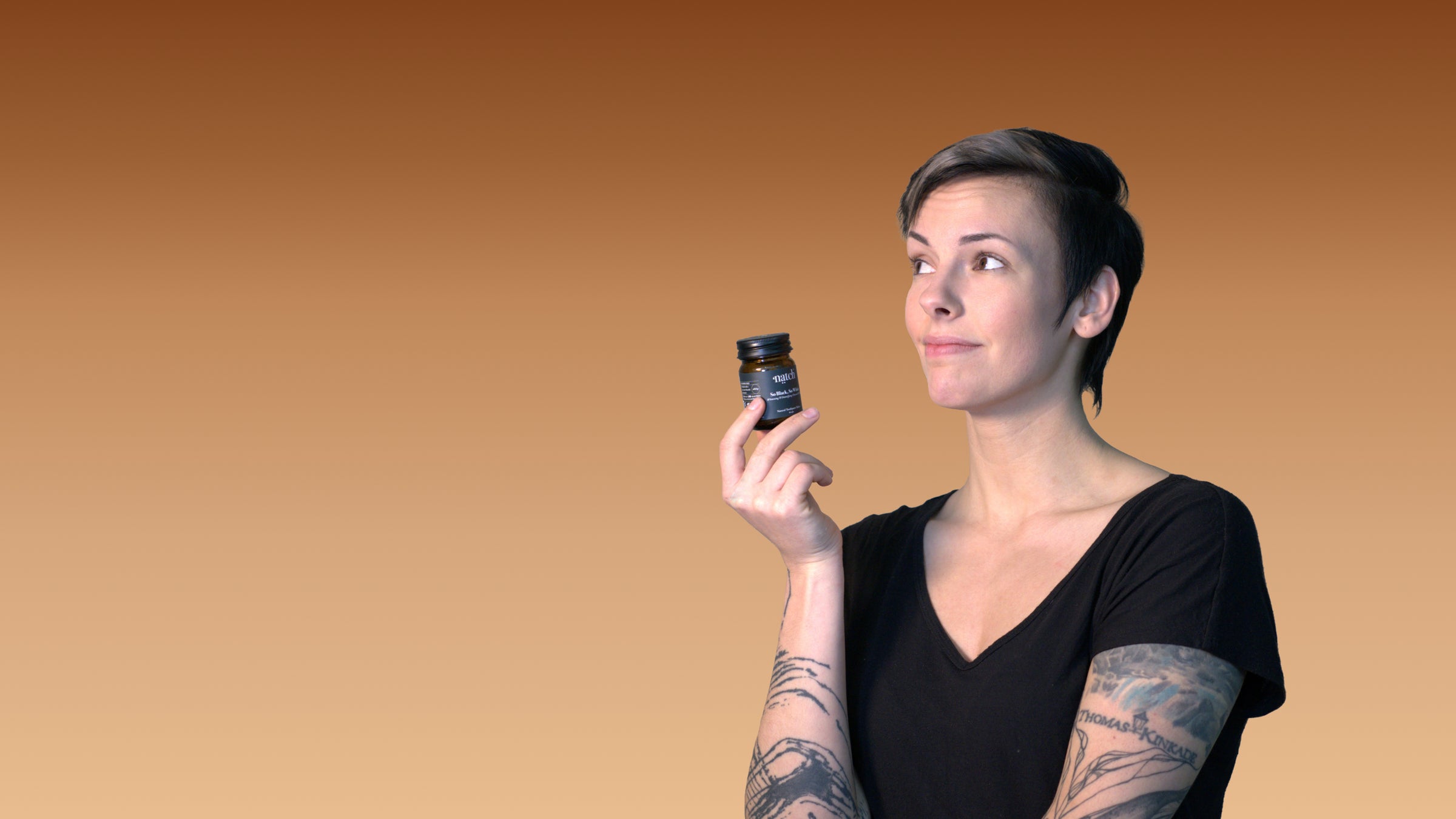 Our tabs are made from natural ingredients. Almost 100% are labeled food-grade. So you could, in theory, eat them, but we don't really recommend it 😉. This applies to humans only. Our tabs are not safe for pets.
Yes they are. Our toothpaste tab formulas have all undergone a thorough safety assessment by a certified laboratory in Germany that evaluates their intended use with daily exposure to all individual ingredients. This ensures its safety not only to you, but also to our environment and demonstrates compliance to Regulation (EC) No. 1223/2009.
No they do not. All of our tablets are fluoride-free. You can read more about why here. Instead, we use HAp, a non-toxic (when swallowed) alternative that has been shown to be just as effective in helping remineralize and protect your teeth from caries.
Yes! We use a natural tree bark high in natural saponins (foaming stuff) that is native to central Chile. This is a healthier and natural alternative to SLS (Sodium Lauryl Sulphate), the commonly used synthetic foaming agent in most commercial toothpastes, shampoos and detergents.
Twice a day or more, but you can use them as often as you brush your teeth.
We think so. Very much, but you tell us ;)
Since we do not use preservatives of any kind try to use them within 6 months after opening your bottle.
NO. Under no circumstances use them on your pets. Xylitol is a key ingredient in our tabs, which is completely natural and safe for humans but not for our four-legged furry friends.
It's not recommended for kids under 6 years of age unless they have the whole "brush and not swallow" technique down.
It is not generally recommended to use essential oils when pregnant or breastfeeding. Many do but to side with caution we recommend that you ask your physician for advice.
It's easy! Just take one tab, crush it with your teeth a few times until it dissolves into creamy effective paste and brush like you normally do with a dry toothbrush for at least two minutes.
Yes, unless you've developed a novel way of brushing your teeth without one 😉. If so, get in touch, we want to know your secret!
Yes it does, but take extra care in extra rinsing to ensure all powdered paste doesn't get stuck between your braces.
There are a million ways to use Natch tabs, in fact every person in our office does it differently! We suggest alternating the way that you chew them, try to change where you crush the tab in your mouth, or try swishing them around before you brush. Switching to toothpaste tablets takes a bit to get used to but we are sure you will find a way that works for you! If there is still a bit left between your teeth, just brush a couple of times on this part and it will be gone. (Pro tip :)
Do you see fuzzy fluffs in your Natch bottle? Don't worry, it's completely normal and safe! Our tablets contain only all-natural ingredients, one of which is menthol. When menthol is exposed to cold temperatures (5°C / 41°F) it naturally crystallizes into cotton candy like fluffs. Once the bottles come to room temperature it disappears (evaporates) like magic. Or give them a light shake. This reaction is typically countered with chemicals, but since we prefer to "keep it real" this is a result.
In high humidity, the tabs may develop small dark spots. The humidity is absorbed by the xylitol and clay in the tabs and creates the spots. This happens when the tabs are exposed to big temperature changes, such as in your bathroom and/or when the bottle is left open for long periods of time. Normally this problem is counteracted with synthetic chimicals, but since we refuse to use them, this is a harmless side effect and in no way affects the quality of your Natch Tabs.
So in short, the tabs are safe. Continue to enjoy Natch
Calcium Hydroxyapatite actually makes up approximately 95% of your enamel and 70% of your dentin, the HAp in our tabs is derived from phosphate rocks making it Vegan. It is designed to be highly effective in combating caries, reducing sensitivity and remineralizing your teeth. Fun Fact: HAp was created by NASA to help regenerate the teeth and bones of astronauts returning from zero-gravity missions.Click here to learn more.
Our tabs are produced in the European Union and shipped from Berlin, Germany with love.
Do you have a question or would like to give us some feedback? Feel free to email us anytime at hello@natchlabs or direct message us on our social channels @natchlabs on Instagram  , Twitter or Facebook. We look forward to hearing from you.
Unfortunately, we cannot accept bottles that have been opened for hygienic reasons. However, If you received a damaged product, a wrong order or simply unhappy just reach out to us and let us know so we can make it right. Check out ourReturns Page more information.
Our Tabs have undergone a lab certified abrasivity test and were given a value of 37. What does this mean? Toothpastes are given a RDA (Relative Dentin Abrasivity) value based on how abrasive they are to your teeth and underlying dentin. The safe range for everyday use is below 250. A toothpaste with a RDA value below 70 is considered low abrasive, between 70-100 is considered medium abrasive and anything above 100 is considered highly abrasive. This means that a value of 37 guarantees Natch tabs are absolutely safe for everyday use.
Where can redeem my discount code?
There are two places where you can redeem your discount code:
1. In the side cart at the bottom.
2. In the checkout on the right. (If you are using your mobile, this will appear in the first drop down section)
We ship globally although there may be longer delivery times and different shipping costs depending on where you live. We ship to three zones: Germany, EU and Rest of the World. Check out our Shipping Page for more information. @ElonMusk we are happy to be the official toothpaste tab on Mars! Get in touch! 👋
No, we do not. Slower or normal shipping has a lower carbon footprint than speedier express shipping. We ship via Go-Green DHL which uses optimized transport routes, alternative vehicles or energy-efficient warehouses to help limit CO2 emissions.
You can opt to have a three month supply sent to you in an eco-friendly bag to refill your reusable glass bottle. Three one-month bags with 186 tabs will be automatically shipped to you every 3 months. This option saves you money, is super convenient, and you can cancel anytime.