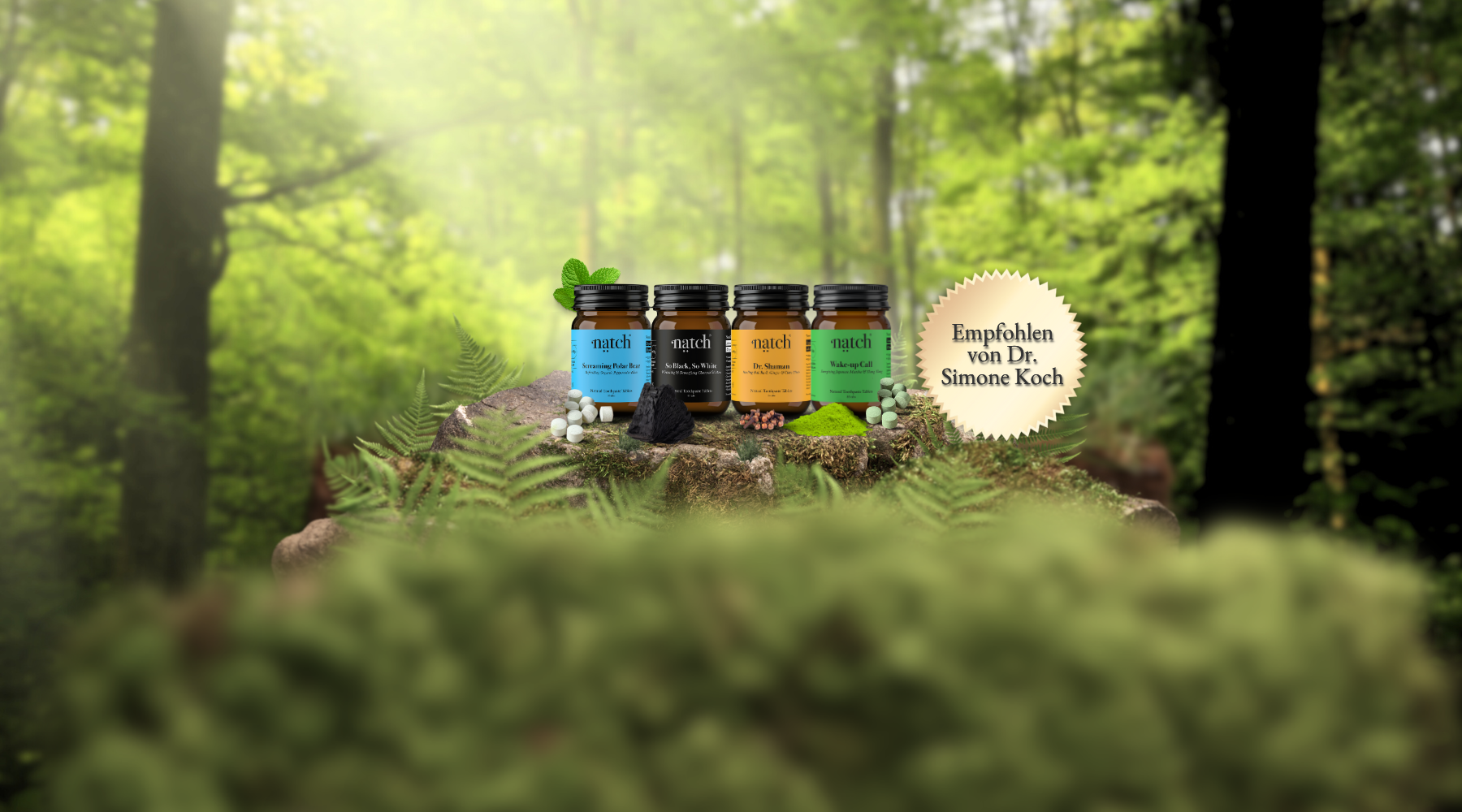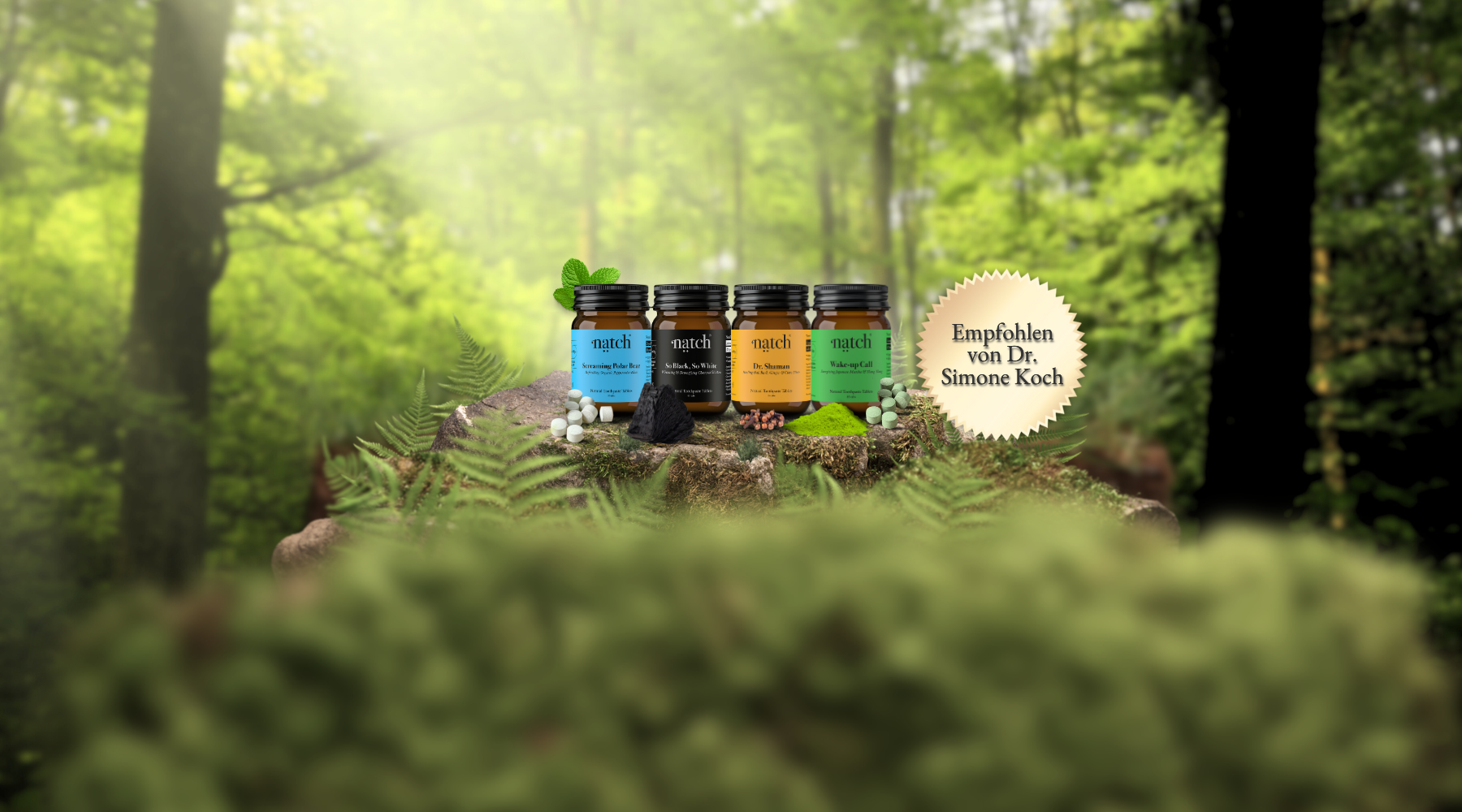 your health starts in your mouth
We are Natch from Berlin and have reinvented toothpaste. Sustainable and super tasty, Natch combines the superpowers of Mother Nature in a compact toothpaste tablet, free from harsh ingredients and plastic packaging. Our goal is to inspire you to live a healthy and sustainable lifestyle.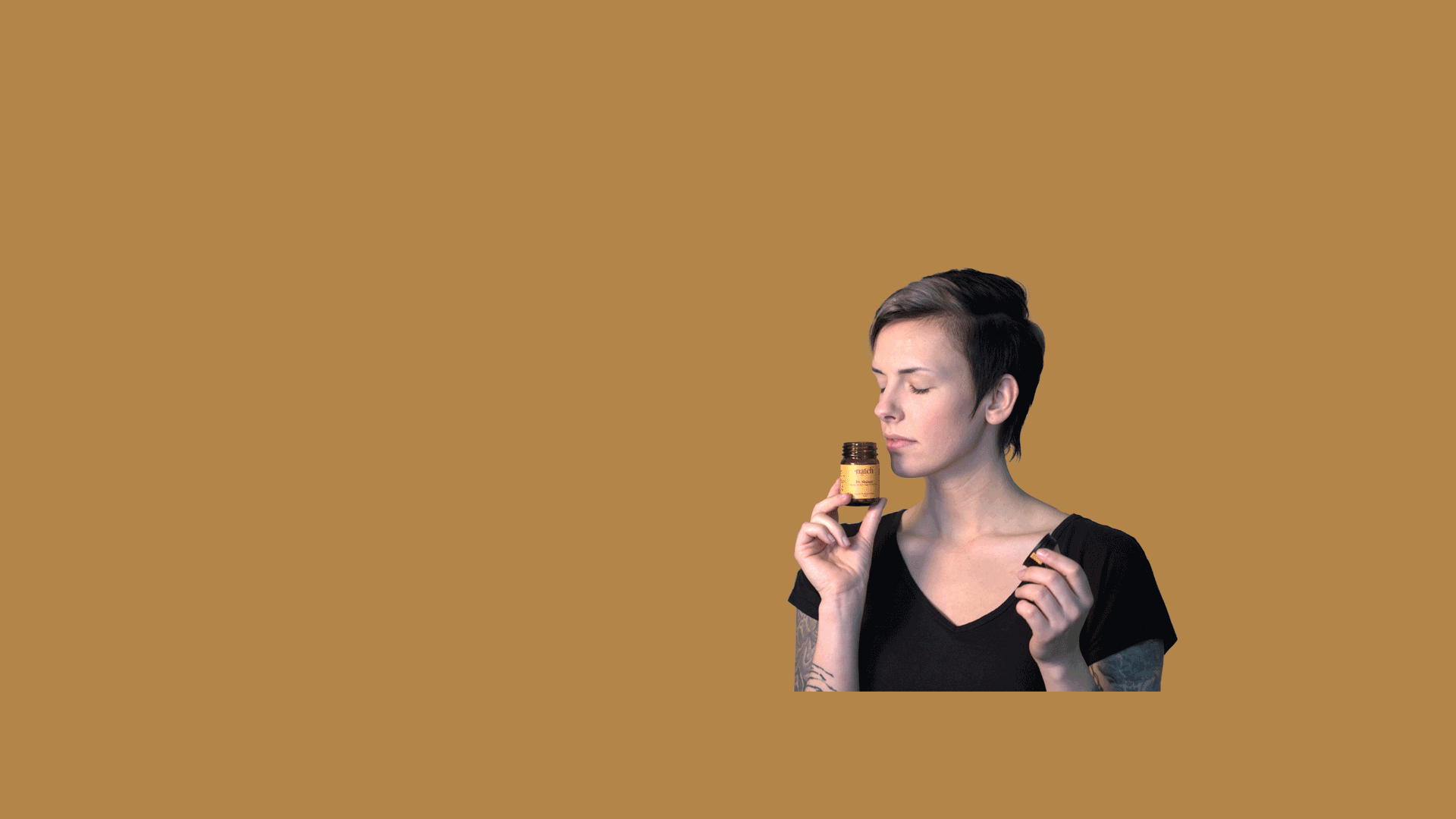 your new oral healthcare routine
"The product is really well composed
and a real alternative to conventional Toothpaste. No unnecessary Sodium fluoride. Instead it has hydroxyapatite - basic substance of tooth enamel provided by nature." - Dr. Peter Graf, Dentist, certified implantologist and Hypnosis dentist
"I was overwhelmed!
I was shocked. It's such a nice cleaning sensation. The tab dissolved immediately. Natch is smooth & foamy. Afterwards my mouth felt relaxed, and not dry at all." - Birgit Schlee, Prophylaxis Expert
★★★★★

"Eine sehr schöne und neue Art die Zähne zu putzen. Der Geschmack ist toll und die Besonderheit der Tablette lässt dich gefühlt länger putzen, als normal. Dass macht ein "mehr Bock-Feeling" auf Zähneputzen, also ein "Must do" was auch Spass macht."

Peter K.

Berlin, Germany
★★★★★

Der Umweltaspekt war der größte Beweggrund für meine Kaufentscheidung. Der Geschmack und die leichte Handhabung haben mich dann vollkommen von dem sehr guten Produkt überzeugt. Danke 🙏👍😁

Annette H.

Lübstorf, Germany
★★★★★

Blitzblanke Zähne, frisches Gefühl und das ohne Plastik. Ich habe alle drei Sorten der Zahnputz-Tabs gekauft. Mit allen blitzblanke Zähne die sich anfühlen wie nach der Zahnreinigung. Ich finde es eine tolle Idee, dass nun auch noch Zähneputzen plastikfrei möglich ist.

Helga B.

Lappersdorf, Germany
★★★★★

I love how easy the tabs are to use, no mess, no stress! Using Dr. Shaman makes me feel like no matter what happens, I have started the day with a healthy decision.

Emily M.

Berlin, Germany
★★★★★

Tolle Konstistenz, super Geschmack, gut schäumend, aber vor allem sehr gute Inhaltsstoffe und kein Fluorid

Barbara D.

Berlin, Germany
20B plastic toothpaste tubes pollute our planet.
Problems of Oral Care Packaging
Globally we produce around 20B Toothpaste tubes per year. Enough plastic tubes to wrap  the globe 133x. The US, UK, and DE alone accounted for 1.7B tubes most of which end up in our rivers, oceans or landfills. It takes circa 500 years for a single toothpaste tube to biodegrade.

Add another 3.5B toothbrushes that are sold every year along with their plastic accessories to the yearly waste. It is clear that something has to change.
•• THE PERFECT TOOTHPASTE SOLUTION FOR YOUR NEXT FAMILY VACATION